What we eat has an impact not just on our own bodies, but also on the environment.
Eating Organic
The labels "100% organic" and "organic" are regulated by the US Department of Agriculture, which defines the standards that are applied to crops and to livestock in order for these to be labeled as organic.
For crops, these standards include use of organic seeds, avoidance of pesticides, and a prohibition on the use of genetic engineering.
For livestock, the standards include the use of organic feed, avoidance of growth hormones and antibiotics, and year-round access to the outdoors.
Buying organic thus not only allows us to avoid pesticides in produce, but also genetically engineered organisms as well as synthetic growth hormones and antibiotics used in the raising of animals.
The USDA website explains the organic certification program [2], as well as other labels that are allowed to be attached to food products, such as "Free-range", "Cage-free", "Natural", "Grass-fed", "Pasture-raised", and "Humane". Note that the use of many of these labels however is not regulated. For further information see here.
The USDA document on Organic Produce and Handling Standards [3] and documents on the USDA National Organic Program [4] website provide further useful information.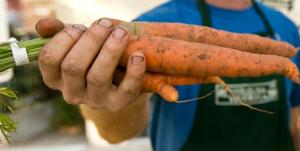 Pesticides in Food
The Environmental Working Group [5] has investigated the issue of pesticide residues on fruits and vegetables. Their "Dirty Dozen" report lists the top fifteen fruits and vegetables with the highest pesticide residue as well as those that are the cleanest. Apples, celery, sweet bell peppers, peaches, and strawberries lead the list of the most pesticide-laden fruits and vegetables. Onions, sweet corn, pineapples, avocados and cabbage are among the cleanest.
Genetically Engineered Organisms
Genetically modified organisms (GMOs) have recently become a topic of considerable controversy. According to the USDA's 2012 report [6], genetically engineered varieties now account for approximately 88% of corn planted, 94% of cotton, and 93% of soybeans. Approximately 70%-90% of wheat, sugar beets, and canola crops grown in the United States are also genetically engineered.
The Non-GMO project [7], a non-profit organization that offers verification for non-GMO products, provides information on avoiding GMO foods and list of products that they have verified as GMO-free. Many of these are organic.
Impact of Livestock Production
In addition to issues such as growth hormones and antibiotics, the raising of livestock has considerable environmental impact upon the planet.
The EPA Inventory of US Greenhouse Gas Emissions and Sinks [8] estimates that 29% of all 2010 methane emissions were due to enteric fermentation and manure management, the largest proportion of these from cattle. As noted in their Executive Summary [9], methane (CH4) is approximately 21 times as effective as CO2 in trapping heat in the atmosphere.
The Food and Agriculture Organization (FAO) of the United Nations report Livestock's Long Shadow - Environmental Issues and Options [10] states "the livestock sector is...responsible for 18% of greenhouse gas emissions measured in C02 equivalent. This is a higher share than transport." In addition to the impact on greenhouse gas emissions, the the impact of livestock on water resources is also far-reaching.